Driven: The Nissan Micra Accenta Plus Tech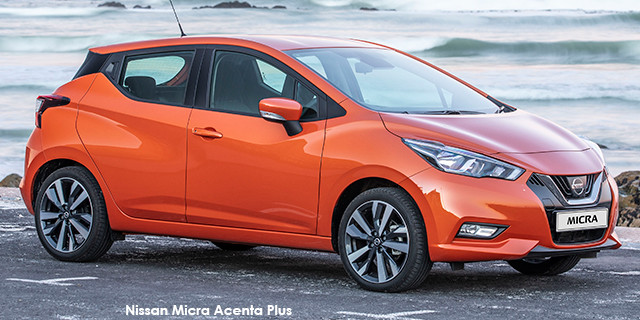 Driven: The Nissan Micra Accenta Plus Tech
With the car-key in my pocket, I approached my latest test car with much confidence. I tap the keyless entry button on the door handle to unlock it, hop inside and start it by pushing a button. I select the reverse gear which turns my central touch screen display into a rear-view camera and 360-degree camera view next to each other. Now you probably think I'm driving a super-premium German sedan, but I'm not. Instead, I'm driving the new Nissan Micra Accenta Plus Tech.
The compact hatchback is powered by a 0.9-litre 3-cylinder petrol engine, coupled to a turbocharger to produce a humble 66kW of power and 140Nm of torque. Drive is sent to the front wheels through a 5-speed manual gearbox. Acceleration from rest to 100km/h will happen in 12.1-seconds before reaching its top speed of 170km/h. Now, this may appear to be a bit of a dreary powerplant, and I will admit that the Micra takes take a while to get moving, but the entire process is quite spirited and exciting. Nissan has equipped the Micra with Intelligent Trace Control which adjusts the amount of brake pressure at each wheel during cornering which adds a bit of extra handling to the mix.
The design of the Nissan Micra Accenta Plus Tech is the real highlight. Comparing it to the previous Micra would be difficult considering how much it has evolved, going from a bland and conservative hatchback to a youthful and vibrant hatch. There are sharp lines all around the car and a set of striking 17-inch alloy wheels giving it a sporty and athletic undertone. The headlights are decorated with a daytime running LED strip, directing your focus to the more aggressive front grille and bumper. At the back, the new taillights slightly protrude from the car adding depth to the design, while a sporty carbon fibre inspired trim piece is embedded into the rear bumper just above a sporty F1-esque lower brake light. The back doors also have hidden handles which give the Micra a bit of a coupe look.
The interior is equally as impressive. The Micra that we tested was equipped with the Energy Orange pack, which replaces the conventional dashboard and trim with orange leather. Up front is a 7-inch touchscreen that manages the infotainment system. It also supports Bluetooth, USB, Android Auto, and my favourite app of them all, Apple CarPlay. The system in the Micra was very straightforward to use and worked flawlessly which isn't always the case when using third party smartphone apps.
Let's talk about the features on this little hatchback. Its available with the usual host of bells and whistles that you'd expect from a small hatch, but the Nissan Micra goes the extra mile. Some of my personal favourites include the electric side mirrors, auto dimming rear view mirror, Apple CarPlay (again), the flat-bottomed sports steering wheel with multifuction media controls, the 'anti-fatigue' seats, the keyless entry and stop/start button and finally, cruise control. However, I did notice that the cruise control function was not accurately calibrated with the speedometer. When I would set the cruise control to 120km/h, for example, the needle would stray to halfway between 120km/h and 130km/h on the instrument cluster, so I didn't know if I was really doing 120km/h or around 126km/h.
After spending a few days with the Nissan Micra, I have a new respect for it. I know the price tag of R305,900 might scare a few people but with so many features in a hatchback, I would certainly have it somewhere at the top of my list. The only thing holding it back is the poor low-end performance of the engine, but it's a minor aspect that I could look past in exchange for a cool car with an even cooler personality.
Do you drive a Nissan Micra? Write a short review of your car and share it with the AutoAdvisor community. We would love to hear what you have to say.
Buy a new or used Nissan Micra at a great price.
We put you back in control, make a single request and get up to 3 quotes from dealers nationally.
Choose your perfect car

Dealers come to you with their best offers

Compare offers and buy with confidence