First Drive: Toyota Hilux Legend 50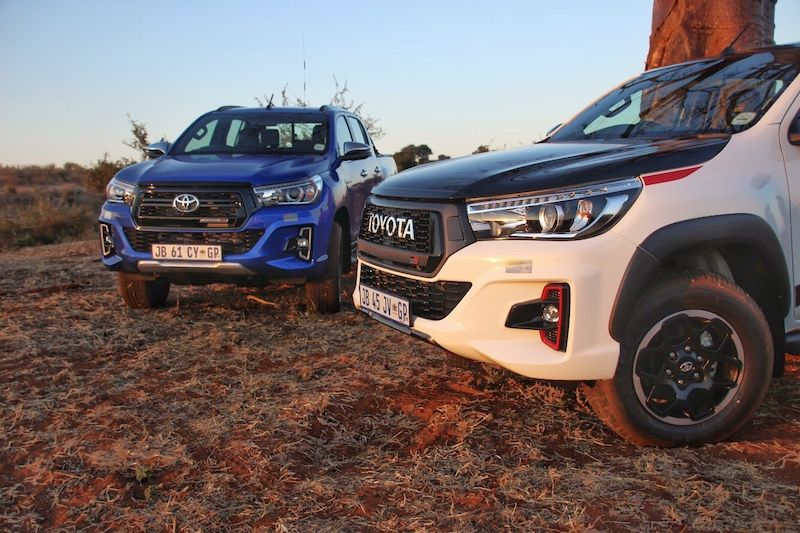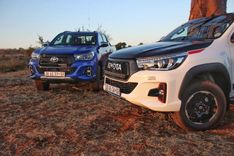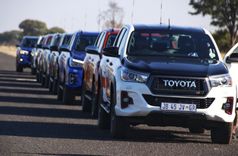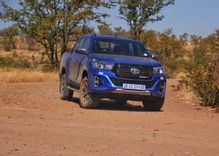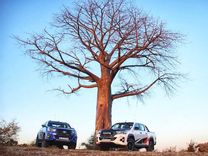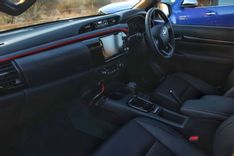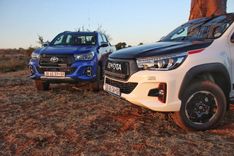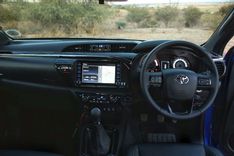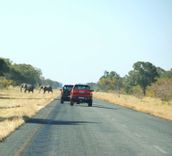 FIFTY UP – Toyota Hilux Legend 50
Toyota's venerable Hilux celebrates its 50th South African birthday this year
There are some things that are just a part of our national pride. The Bokke. Bafana Bafana. Boerewors. Biltong. And the Toyota Hilux. For half a century, Toyota South Africa has been producing Msanzi's most-loved bakkie, and to commemorate its 50th birthday, they have released a special trim level, called Legend 50.
The Legend 50 picks up where the popular Dakar Edition left off, and carries the baton as the flagship trim level of the Hilux. The Legend 50 is based on the Raider trim level and is available as either a single-cab, xtra-cab and double-cab body styles, and naturally in either 4x2 or 4x4. Much like 2014's Legend 45 that preceded it, the Legend 50 features numerous model-specific bits like a gloss-black grille, new 18-inch Black alloy wheels, a black styling bar, smoked tail lights, roof rails and side-steps, a tow bar, a tonneau cover, and a redesigned – more aggressive - front bumper. The brawny bakkie is also available in eight unique colours.
Together with Legend 50 badges and emblems being affixed to the doors, tailgate and styling bar, the luxuriously appointed Legend 50's cabin features a larger 8-inch infotainment touchscreen, a glossy black instrument cluster, chrome interior touches, branded floor mats, split leather upholstery and keyless entry paired with a Supra-like start button.
The Legend 50 line-up is available with a choice powertrains - a 2.8-litre four-cylinder turbodiesel and a naturally aspirated 4.0-litre V6 petrol offering. The torquey 2.8-litre turbodiesel GD-6 is available with a choice of either an 'Intelligent Manual Transmission' six-speed manual or a six-speed automatic transmission, and will produce 130kw and up to 450nm in the case of the automatic. Expect the manual version to sip diesel at a rate of 7.6L/100km and 8.5 L/100km for the automatic.
The V6-engined version is available exclusively with a six-speed automatic transmission and 4x4, produces impressive outputs of 175kw and 376nm, and actually sits up top as the flagship of the local Hilux range – ahead of the special edition Hilux GR Sport. Being a big, naturally aspirated motor, the V6 is understandably thirsty, and consumes unleaded at a rate of just under 12L/100kms.
Much like other Hilux models in the range, the 4x4 variants will utilize a dash mounted selector dial to toggle between 2-wheel drive, four-wheel drive and 4-wheel low range. Toyota has also equipped the all-terrain bakkie with downhill assist control, hill-start assist, as well as a differential lock on the rear axle, further bolstering its off-road credentials.
Speaking of the Hilux GR Sport variant, this limited-edition model goes up against other recent off-road biased offerings from Ford and Isuzu. Aside from a black bonnet and roof, a redesigned front grille, branded side-steps, blacked door handles and fender arches, it gets Gazoo Racing decals and off-road biased 17-inch wheels. The rear end also gets a boost thanks to smoked tail lights, a branded styling bar, and more GR branding. The interior also comes under the knife and features red accents and stitching throughout, as well as sporty leather seats with red perforations.
But while it is based on the 130kw 2.8 GD-6 Hilux 4x4 automatic, its set apart by a trick suspension that has been specially engineered by Gazoo Racing. The sport suspension features increased damping capacity and increase stiffness, and was rally-tuned by Gazoo Racing. Interestingly, despite being the sportier offering in the range, the GR Sport offers the same payload capacity as the other Hilux models. The limited-edition bakkie carries a sticker price of R707 400 – some R69 900 more than the model on which it is based.
Hilux Single cab:
Toyota Hilux 2.8 GD-6 RB Legend 50 6MT R472 000
Toyota Hilux 2.8 GD-6 RB Legend 50 6AT R491 100
Toyota Hilux 2.8 GD-6 4x4 Legend 50 6MT R537 700
Toyota Hilux 2.8 GD-6 4x4 Legend 50 6AT R557 700
Hilux Xtra cab:
Toyota Hilux 2.8 GD-6 RB Legend 50 6MT R511 100
Toyota Hilux 2.8 GD-6 RB Legend 50 6AT R530 200
Toyota Hilux 2.8 GD-6 4x4 Legend 50 6MT R578 800
Toyota Hilux 2.8 GD-6 4x4 Legend 50 6AT R598 200
Hilux Double cab:
Toyota Hilux 2.8 GD-6 RB Legend 50 6MT R579 100
Toyota Hilux 2.8 GD-6 RB Legend 50 6AT R598 500
Toyota Hilux 2.8 GD-6 4x4 Legend 50 6MT R647 600
Toyota Hilux 2.8 GD-6 4x4 Legend 50 6AT R668 800
Toyota Hilux 4.0 V6 4x4 Legend 50 6AT R712 100
As with all Toyota Hilux models, expect a 3-year/100 000km warranty, and 90 000km service plan (at intervals of 10 000km) as standard.
Buy a new or used vehicles at a great price.
We put you back in control, make a single request and get up to 3 quotes from dealers nationally.
Choose your perfect car

Dealers come to you with their best offers

Compare offers and buy with confidence