Driven: Mercedes-Benz A200 AMG Line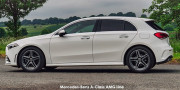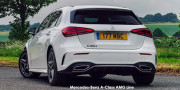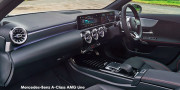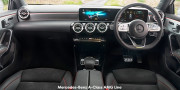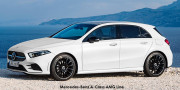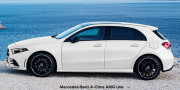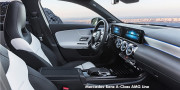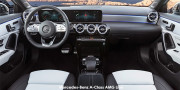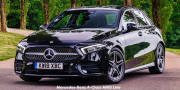 GAME. SET. MATCH - Mercedes-Benz A200 AMG Line
The baby Mercedes rattles its rivals and has shaken up the compact hatchback market like never before
When Mercedes-Benz South Africa debuted the W176 A-Class back in 2013, it was a massive departure from the model it replaced. It was a new dawn for the luxury automaker that saw them have a legitimate rival that could try to break the Volkswagen Golf's stranglehold on the market. The then new A-Class was a truly impressive step forward for the German marque, because it was also the first of a new line of compact cars they were rolling out.
When the W176 launched, it was widely lauded as being a giant step into the modern era for Mercedes. A market they previously didn't tap into, i.e. the youth market. Suddenly, it was cool for a youngster to be driving a Benz, and Mercedes' used celebrities like Usher and Lewis Hamilton to further drive the point home. However, as great as it was, it felt short of the Golf in a number of key areas, which led many to say that – like the X-Class – the W176 was a good platform to build from, and that its successor will be the one to watch.
And after six years, the W176's successor is finally here, and it is brilliant. To say that the new W177 has moved the game along it an understatement. Not only does it feature the very latest in Mercedes' design language, but it gains tech never before seen in this segment. The reality is, just about anyone that gets behind the wheel of the new A-Class will be impressed by its interior comfort, stunning design, innovative technology, terrific road manners and exemplary safety features. No wonder it was recently crowned South African Car of the Year for 2019.
The exterior uses styling cues seen on other current Mercedes models, most notably the swoopy CLS-Class. The front end is more upright yet more tapered than before, giving a somewhat pointier look, whilst a high shoulder line leads into the familiarly styled C-pillar. This being the AMG-Line, there are monstrous intakes up front (that aren't functional), subtle skirts that are an evolution of those seen on the W176, and a meaty rear diffuser housing twin trapezoid exhaust outlets on either side. Even without the optional AMG-Line, the W177 has a lower centre of gravity, and because of this handles far better than its predecessor.
One area where the W176 scored poorly was ride quality and it seems that Mercedes has remedied that issue, even with the larger 18-inch AMG wheels. Interestingly, apart from its powertrain, there is a major technical difference between some of the A-Class models we have available locally. And that is that the A200 uses a torsion beam rear suspension setup, whilst the A250 makes use of a four-link suspension setup at the rear. Even with the torsion beam setup, ride quality is far improved over the model it replaces. That said, we are looking forward to pushing the limits on the A250, which should handle in a superior way.
As we said earlier, the A-Class sets new standards for infotainment and interior lustre in this class, and features Mercedes' ground-breaking new MBUX "Hey Mercedes" infotainment system. The cabin is dominated by two large 10.25-inch screens that sit in line with the divide between the dashboard's two horizontal sections. Gone is the rotary knob controlling the central infotainment display, instead replaced by a large touchpad and leather pad for the operator's wrist. Even the steering wheel has been lifted from an S-class, featuring the same design and button arrangement of Merc's most expensive limousine.
The system is extremely easy to use, and can be used in one of four ways - via voice controls, a centrally mounted touchpad, touchpads on the steering wheel or by using the touchscreen. The system, which is quite similar to Siri and Google Assistant, uses artificial intelligence to learn and adapt to the driver to understand in indirect speech. What sets MBUX apart from Apple CarPlay and Android Auto is that you can ask it car related questions. Such as, "Hey Mercedes, close the sunroof", or "Hey Mercedes, what is the available fuel range", and "Hey Mercedes, I'm cold, can you turn up the heat". The system also learns to understand personal preferences and will even go as far as predicting your needs. Suffice to say, this is the most advanced system available today.
One thing that intrigued us was how it finds location information. Mercedes explained that the car is embedded with an LTE sim card that roams on Vodacom, with all costs covered by the automaker. Unfortunately, the sim can neither be used as a Wi-Fi hotspot, nor can it support live streaming. It can however update the system with over-the-air software updates. The thing about MBUX is that you can't just read about it – you have to experience it for yourself, and this is best demonstrated by a Mercedes Product Expert at your local Mercedes-Benz dealership.
The A-Class is currently available in three flavours (A200, A200d and A250), with the AMG A35 and flagship AMG A45 S set to join the line-up at a later stage. The range kicks off with the A200, which uses a turbocharged Renault-Nissan developed 1.3-litre four-cylinder petrol motor, good for 120kw and 250nm. This is up from the 115kw and 250nm produced by the W176 A200's 1.5-litre turbo motor. And unlike the W176 which was offered in both manual and automatic, the W177 A200 is only be available with a 7-speed DCT transmission.
The A200 is priced from a whisker over R500K and for that price you expect a fair amount of standard specification. Mercedes does not disappoint, and as standard the A200 features climate control, a multi-function leather-wrapped steering wheel with touch controls, cruise control, and LED daytime running lights to name just a few. As you could expect there is a massive options list that if ticked incorrectly will easily see close to an additional R200 000 added to the original purchase price – so choose wisely. Safety is good too, as it comes with 7 airbags, and a whole host of Mercedes' latest safety technologies.
Has the new A-Class changed the game? It has indeed. BMW will soon be rolling out their version of a driver assistant and this is expected to feature in the upcoming 1 Series. Fair to say, the new A-Class is a massive leap over its predecessor, which itself was a very decent car, and sets the benchmark in its class for luxury, and technology. The A200 is priced from R500 012 for the Style derivative, and R525 012 for the AMG Line. All variants come standard with a 6-year/100 000km premium maintenance plan, and a 2-year/unlimited km warranty.
Buy a new or used Mercedes-Benz A-Class at a great price.
We put you back in control, make a single request and get up to 3 quotes from dealers nationally.
Choose your perfect car

Dealers come to you with their best offers

Compare offers and buy with confidence