POWER & GLORY - Mercedes-AMG A45 S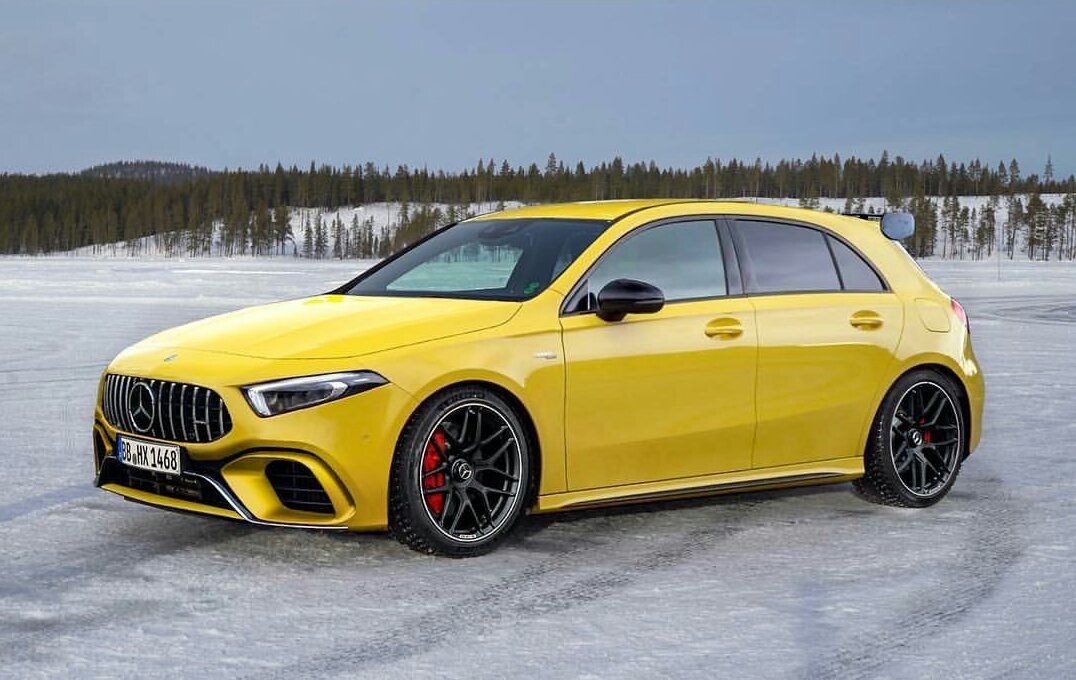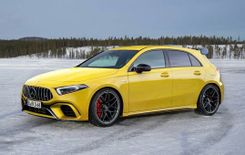 Here's everything we know about the upcoming hatch-King
Not so long ago, hot hatches like the Renault Megane Sport and the Alfa Romeo 147 GTA were considered 'Kings' of the hot hatch world, boasting outputs of 165kw and 184kw respectively. Fast forward a meagre 15 years, and modern hatchbacks can rival proper sports cars for all-out performance.
The segment was set alight when Mercedes-Benz launched their first 'hot-hatch' in 2013. The car was called the Mercedes-Benz A45 AMG, and utilized a twin-scroll turbocharged 2.0-litre four-cylinder motor to produce an incredible 265kw and 450nm. But that wasn't all, because it also had a 4Matic all-wheel drive system that saw it rip from 0-100kph faster than you could say BMW M3 Frozen Edition.
This in turn spurred on Audi - who already had their bombastic RS3 Quattro on the market – to engage in a power war with Mercedes-AMG. The boys from Ingolstadt countered the A45's 265kw output, with 270kw from its turbocharged 2.5-litre five-cylinder, beating the A45 in nearly all performance tests. But the folk from Affalterbach were not to be outdone, and in 2016, launched a facelifted version of the A45, complete with an uprated M133 2.0-litre motor producing an incredible 280kw and 475nm.
This gave the A45 - now christened the Mercedes-AMG A45 – a specific power output per litre that rivalled the Bugatti Chiron. Audi Sport knew that the A45 was nearing the end of its lifecycle and AMG had planned no further power updates for the hatch. They then played a knock-out blow with their refreshed RS3 to pummel the A45 into a proverbial submission. Its award-winning 2.5-litre motor was retuned and produced a staggering 294kw – and to this day reigns supreme in the hyper hatch class.
You might be asking yourself – where was BMW in all of this? BMW chose to take a different route to its German rivals. Their 272kw M2 Coupe and even more focused M2 Competition were deemed 'drivers' cars' rather than a hatchbacks and in typical BMW fashion used a rear-wheel drive setup. As a result – despite having 302kw under the loud pedal of the M2 Competition – it just couldn't compete with the monstrous RS3 in acceleration tests.
However, the year is now 2019, and there is a new A-Class on the market. And that means that the boffins in Affalterbach are cooking up a new A45 whose sole goal is to obliterate the Audi RS3 and the M2 Competition. Not only will the new A45 have more technology than ever before, it will also have a sibling to ride shotgun with – the new Mercedes-AMG A35.
AMG Bossman Tobias Moers, has made his intentions clear – to create the most epic production hatchback the world has ever seen. While AMG is still testing and fine-tuning the A45, recent sightings of the similarly-engined CLA45 has given us our clearest look as to what the new A45 will look like – and that has been captured perfectly in this render by AMG aficionado, Raziz 'Roken R' Rehan.
Information on the new A45 is limited, however, Moers has stated that the hyper hatch will be available in two variants. Much like how BMW have an M2 and a hard core M2 Competition, for the first time ever, the AMG A45 will be available in two flavours – the A45 and the A45 S. And fortunately for us, the power outputs for both have been disclosed! The A45 will produce 285kw and the flagship A45 S will make 310kw – eclipsing both the RS3 and the M2 Competition!
It will also get the latest RACE START launch control program, and while performance stats are yet to be disclosed, it is believed that the new A45 S will rocket from 0-100kph in a time that will likely rival the C63! Moers also confirmed that the new A45 will bin the AMG Speedshift DCT 7-speed sports transmission that did duty in the W176 in favour of a new 8-speed dual-clutch transmission. This further differentiates the A45 from the A35 – an uprated engine, a different transmissions, and most importantly a very special 4MATIC all-wheel drive system.
Apart from chassis updates over the 225kw A35, it gets a very sophisticated all-wheel drive system that – much like the E63 S – will have a dedicated drift mode. Rather than a single differential routing power to the rear, there is a separate clutch for each wheel at the rear. This layout allows for quick reacting torque vectoring that can send up to 100 percent of the power to a single corner. Sensors monitor traction, throttle position, yaw angle, and steering angle to determine how to proportion the torque.
Expect an upgraded braking system over the already strong system seen in the A35. The exterior of the A45 is also expected to be significantly more aggressive than the A35 – with bigger wheels, larger intakes on the bumpers, a more pronounced rear diffuser, quad pipes out the rear, a large rear spoiler, and trademark Panamericana grille up front. The interior will get an AMG-specific MBUX system as well as AMG bucket seats, an AMG steering wheel, and other distinct AMG touches throughout the cabin.
The Mercedes-AMG A45 and A45 S are expected to be revealed in the coming months – with a public debut slated for September's Frankfurt Motor Show - and should be in European showrooms before the end of the year. It is also believed that South Africa will get only one version of AMG's new hyper hatch – the flagship A45 S – giving owners ultimate bragging rights. Mercedes-Benz South Africa are yet to confirm a local launch but insiders suggest it will happen early in 2020.
Buy a new or used vehicles at a great price.
We put you back in control, make a single request and get up to 3 quotes from dealers nationally.
Choose your perfect car

Dealers come to you with their best offers

Compare offers and buy with confidence