MORE ARRRR TO THE R - Volkswagen Golf R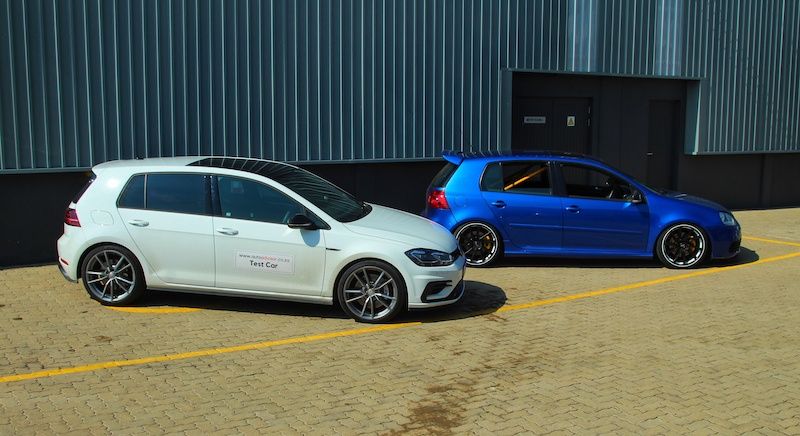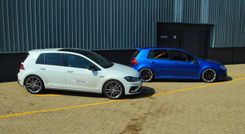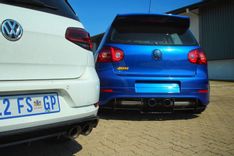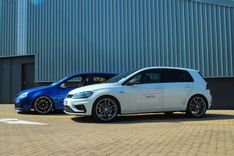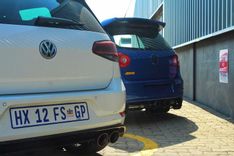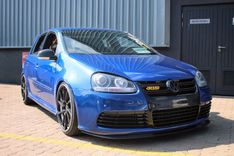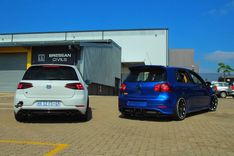 MORE ARRRR TO THE R - Volkswagen Golf R
We're madly in love with the Golf R's optional Akrapovič exhaust system
Ever since the Golf R launched in South Africa a few years ago, it immediately became a cult classic. Despite being the most expensive Golf in the line-up, it offered giant-killing performance, with the ease of use that is usually associated with the Golf. Simply put, it was the Golf the Mk5 R32 should have been!
Together with being one of the chief instigators in the 'vrrrpha' movement, the Golf R went on to become the performance car of choice for auto enthusiasts, as Golf R's began taking over drag strips throughout the country, with one highly modified version even dipping into the 9s. If you needed clarification, that is a 9 second quarter-mile time – even quicker than what Vin Diesel could accomplish in the Fast and Furious.
But with the quest for power, comes problems. Because many standard fitment items on the vehicle would need to be swapped out for high-performance equivalents – most notably the turbocharger, the exhaust system, the brakes, the intake and injectors to name just a few. While owners might opt for more grunt, dealers frown upon this and will even go as far as to void warranties, because they believe that these updates compromise the reliability of the car. While not offering a slew of performance parts through their dealer network, Volkswagen SA has decided to offer a performance exhaust system for the Golf R by famed Slovenian exhaust experts Akrapovič that still maintains the vehicles warranty.
The history of Akrapovič is an interesting one. The name comes from its founder, Igor Akrapovič, who was a racing car driver. When he did retire from professional racing, the Slovenian began to develop sports exhaust systems. The Akrapovič brand – pronounced a-krap-poh-vitch - now 29 years old, is renowned the world over and is the go-to-brand for automakers like BMW, Renault and most recently Volkswagen.
Volkswagen approached Igor Akrapovič to work with them to design a 'Performance' exhaust system made of titanium for the Golf R. The use of the noble metal reduces the weight compared to the standard system by 7kgs. The 'Performance' system gives the Golf R completely new acoustics. Especially at high revs and when shifting gears, a sound is generated that is typical of Akrapovič systems – tight, finely tuned and yet not too loud.
Like the standard production system, the Akrapovič system has four round exhaust pipes in the Golf R, but they have a fully independent design layout. The finish of the exhaust also features anti-corrosion and high-temperature materials to ensure resistance to whatever elements could potentially cause harm to the system. This titanium system also features valve control technology for a unique (and switchable) exhaust note. It is mated to the driving mode selector so that when in Sport or Race mode, the exhaust sound is sharper and more raucous, but toned down when in Eco or Normal mode.
Not that the Golf R was ever considered 'slow', but the Akrapovič exhaust system now complements it pace perfectly. Select Race mode and the DSG will hold onto a gear right the way through the rev range accompanied by a deep, throaty warble. Shift up a gear at redline, and a rorty snort erupts from the exhaust as the next cog is selected. Gear down and you will be treated to a cacophony of snap, crackles and pops from the performance system - think 'vrrrpha' on steroids.
Acoustics aside, Volkswagen say that there is no performance difference when you opt for the R39 900 Akrapovič system. Yet typically, we know from experience with systems similar to this, there is a minute gain in power output and torque. So we turned to the performance expert at Durban's TMT Performance, to help us ascertain what kind power this Akrapovič-equipped 7R actually produces.
With the 228kw Golf R fairly new on the market, they told us that they are yet to dyno one. Their only reference would be the original 213kw Golf R which on their dyno makes around 188kw. It should also be noted that they are known for having one of the 'stingiest' dynos on the East Coast, because let's be honest, no-one likes a dyno queen. When they strapped our Akra-fitted 7R to the rollers, it produced a strong 212kw and 401nm!
Remember, we said, this was a stingy dyno. But then we decided to adjust the correction factor to bring it in line with real world power outputs, and the results were nothing short of amazing. The latest Golf R, fitted with the Akrapovič 'Performance' exhaust system, eventually was run and a produced an incredible 245kw and 465nm – on 95 octane! Make no mistake, everyone present had to pick up their jaws up off the ground.
While this may not be an entirely accurate figure, we do believe that there is a performance increase over the standard Golf R. To what extent, we would need to not only dyno a standard 228kw Golf R against the Akrapovič-equipped model, but test them on a track against each other. What we can deduce is that while the Akrapovič Golf R sounds amazing, in our acceleration tests, we felt while it appears relatively brisk from standstill to 100kph, once it passes 100kph it picks up speed at a rate that would likely rival the Audi RS3 and Mercedes-AMG A45. In other words, it is astonishingly quick – and this is why the Golf R is so loved.
Only one version of the 7R is now available in South Africa, with Volkswagen South Africa discontinuing the 213kw model as they launched the 228kw variant. The Golf 7R is priced from R676 500 – R5 500 more than the similar Audi S3 – and comes standard with a 5-year/90 000km service plan, and a 3-year/120 000km warranty.
Special thanks to Kirschlee Naidoo and his team at TMT Performance for use of their dyno. Before we left their fantastic facility, we managed to scoop some pics of their Golf 6 R-engined Golf GTI project car. Yes, you read right, the entire all-wheel drive setup and the engine from the 6R now resides in this very special Mk5 GTI, making it a true one-of-a-kind machine.
Buy a new or used vehicles at a great price.
We put you back in control, make a single request and get up to 3 quotes from dealers nationally.
Choose your perfect car

Dealers come to you with their best offers

Compare offers and buy with confidence