Suzuki Vitara improved thanks to BoosterJet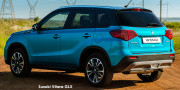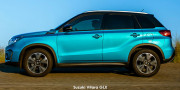 Suzuki Vitara improved thanks to BoosterJet
The team at AutoAdvisor recently spent some time with the updated Suzuki Vitara. We made use of the new model for activities that range from the daily commute to mild 'bundu bashing', mountain biking and everything in-between.
SUV popularity
The incredible rise in popularity of SUVs both locally and from a global perspective means that of the cars that we receive to test; more than 50% are marketed as an SUV or crossover of sorts. This means that the recent enhancement of the Vitara range was needed in order for the Vitara to remain competitive, particularly in terms of its powertrain.
It was all…yellow
The proverbial elephant in the room when it comes to our recent Vitara 1.4 T GLX manual test car was its exterior colour, which the brand calls Prime Solar Yellow which was contrasted by a black roof. This is one of eight exterior colours available on a Vitara, six of which feature the contrasting black roof.
Practicality
During our time with the Vitara, we transported four occupants on an extended journey with all occupants reporting respectable levels of leg and headroom in the rear and satisfactory levels of comfort. The 375-litre boot, which extends to 710-litres, allowing us to load a 29-inch mountain bike in the rear. with the rear seats in place, the boot was able to swallow three overnight bags.
Driving Vitara
The big news with the updated Vitara is the addition of the 1.4-litre BoosterJet turbo petrol engine. It provides 103 kW of power at 5 500 r/min and 220 Nm of torque at 1 500 r/min. This allows the Vitara to sprint from 0-100km/h in just 9.5 seconds and provides enough power to overwhelm the front wheels on a regular basis.
Off-road?
The Vitara has some 185mm of ground clearance, which isn't exactly full-blown off-road material, but was enough to tackle the gravel road that we came across during a few of our journies. Previous Vitara models have had off-roading as one of their key features and despite the latest Vitara being available with an all-wheel drive system, it is more a soft-roader, which, depending on how you look at it, is either a good or a bad thing. To us at least, what the Vitara has loss its off-road prowess it has gained in ride comfort and car-like handling characteristics, making the latest iteration a far more agreeable car to live with. The AllGrip system is still available with the 1.6 GLX Vitara, for those looking for improved off-road ability.
Safety first
On the safety front, the Vitara has an impressive seven airbag count which comprises the dual front, side, curtain, and knee airbags. ABS, EBD, and ESP are all standard, as are ISOFIX child seat mounting points.
Fuel sipping
During our time with the Suzuki, the BoosterJet engine in combination with the six-speed manual gearbox returned a fuel consumption figure of 8.1 L/100km which is a fair way from the 5.8 L/100km claim, however, our week with the vehicle included a predominantly urban driving route.
Verdict
The addition of a turbocharged engine to the Vitara line-up has totally transformed what felt like a very aged vehicle previously. The automatic variant is likely an even better package, however, the price of the Vitara has now escalated too, making it a rather pricey proposition.
Pricing
Suzuki Vitara 1.4T GLX R 396 900
Buy a new or used Suzuki Vitara at a great price.
We put you back in control, make a single request and get up to 3 quotes from dealers nationally.
Choose your perfect car

Dealers come to you with their best offers

Compare offers and buy with confidence