A class above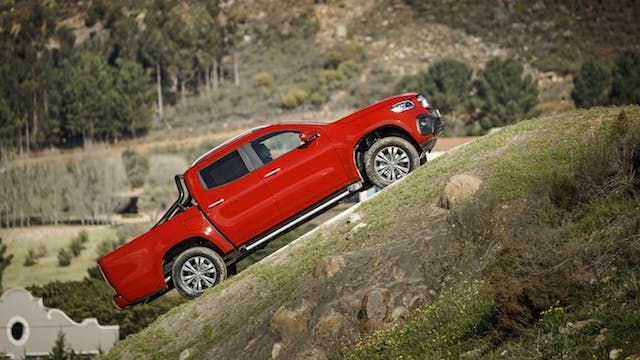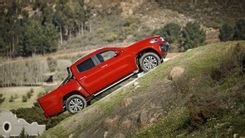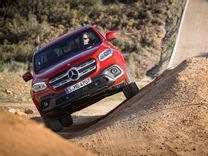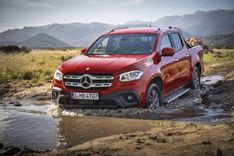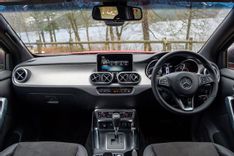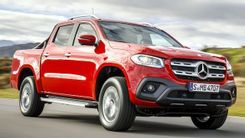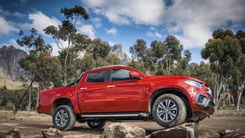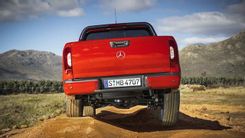 WHATS THE DEAL? IS IT A NAVARA WITH MASCARA?
When it comes to pickups, one of the biggest talking points for 2018 has no doubt been Mercedes-Benz's new X-Class. The premium pickup has polarized opinion since its unveiling in 2017, and it will continue to do so now that has officially been launched locally - into a sea of Rangers, Amaroks and Hiluxs.
It's been well documented that the X-Class rides on the same underpinnings as the Nissan Navara, as well as the upcoming Renault Alaskan, but to term the X-Class as a rebadged Navara isn't exactly accurate. This is not the first time Mercedes-Benz has worked together with Renault-Nissan. The Renault Twingo and the Smart car share their underpinnings, and let's not forget the Renault diesel motor in the A-Class. And there was also the time that Mercedes provided Infiniti with a platform for its GLA-based Q30 concept.
X-class rides on the same ladder-frame chassis as the Navara, and Mercedes sought to strengthen this, as well as rework the suspension. This included fine-tuning the dampening for improved ride quality, because first and foremost, this is a Mercedes-Benz. Next it widened the tracks significantly, 62mm and 55mm for front and rear respectively, ensuring it not only has a stronger and more aggressive stance, but it more stable as well. The hydraulic steering was also fettled and quickened, to make it react to changes in direction quicker, and also appear more car-like in its drive.
The X-class – like the Navara – uses a multi-link rear axle and proper car-like coil springs – a more sophisticated set-up that we're told was 'a prerequisite' for Mercedes getting involved in the project (presumably explaining why the Navara has it in the first place). It even toggles between its various all-wheel drives with an immediacy that is far quicker than the Navara – prompting a Mercedes spokesman to disclose that the X-Class uses a variation of a 4x4 system off the G-Class, as well as the rear differential off the Gelandewagen.
South Africa gets two derivatives. The poverty spec 'PURE' spec isn't brought to SA however. Our entry-level model is the 'PROGRESSIVE' variant which is aimed at people seeking a rugged pickup with extra styling and comfort functions - as a calling card for their own business, while also being a prestigious vehicle for private use. The range-topping 'POWER' lifestyle variant features a high-end design and equipment line. It is aimed at customers for whom styling, performance and comfort are paramount. The X-Class rides on attractive 18-inch wheels, but these can be upgraded to 19-inch.
There are three engine options set for SA. The entry-level X220d which is powered by a 2.3-litre turbo diesel motor that produces 120kw and 403nm. The remaining five models, make use of a high output version of the 2.3-litre twin-turbo diesel and produce 140kw and 450nm – the same motor that powers the Navara. However, Merc went about retuning it to reduce the raucousness of the motor giving it class-leading NVH levels, as well as recalibrating the 7-speed automatic transmission to react more 'Mercedes-like'. The mega X350d produces 190kw and 550nm from its turbo-diesel V6 which will be available by Q1 2019.
They also binned the rear drum brakes of the Navara in favor of disc brakes on the X. Mercedes-Benz is also the only manufacturer in the segment to opt for large disc brakes on both axles as standard. The front axle has internally vented brake discs with a diameter of 320mm. The internally vented brake discs on the rear axle have a diameter of 308mm. Additional sound deadening was also fitted, adding to the weight of the vehicle, which is apparently a fair amount heavier than the Navara. It should be noted that X-Class has a towing capacity of up to 3500kg, as well as load capacity of 1.1 tons.
The exterior styling is very much Mercedes-Benz. The pickup is larger than a Navara and wouldn't be mistaken for anything else except a Benz. The interior is also distinctive Mercedes, apart for the climate control switchgear and a few other buttons, and is loaded with MB tech like its COMAND system. As with all Merc's safety systems like ESP, BAS, EBD, ABS, ASR as well as seven airbags are all standard equipment. There's even autonomous emergency braking, lane-keep assist and traffic sign recognition. There's also 7 airbags, and it boasts a 5 star Euro NCAP safety rating.
For South Africa, three derivatives will be available. The X220d, X250d and the V6 X350d which will join the lineup in Q1 2019.
The X-Class comes with Mercedes' standard 6 year / 100 000km motorplan. Pricing is as follows:
X220d Progressive 6MT- R646 071
X250d Progressive 7AT - R699 200
X250d 4Matic Progressive 6MT - R701 615
X250d 4Matic Progressive 7AT - R729 675
X250d 4Matic Power 6MT - R796 145
X250d 4Matic Power 7AT - R824 205
Buy a new or used vehicles at a great price.
We put you back in control, make a single request and get up to 3 quotes from dealers nationally.
Choose your perfect car

Dealers come to you with their best offers

Compare offers and buy with confidence