Driven: 2019 Honda Civic 1.8 CVT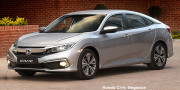 Driven: Honda Civic 1.8 CVT
The Honda Civic is one of the most iconic vehicles in motoring history. It's synonymous with fuel efficiency, build quality and driving satisfaction. Over the last nine generations of Civic, around 23-million have been sold around the world. The latest Honda Civic takes the reliable foundation of its predecessors and infuses it with dynamic styling, class-leading technology and sophisticated luxury.
The design of the new Civic is more daring than ever. It has a confident look thanks to its chrome grille, nestled between two automatic LED head lights. A sporty lower bumper gives it good styling proportions while the lightweight 17-inch alloys add a bit of flair to the side view. The rear gets a swoopy roofline that flows into a large, but not extreme, boot spoiler. Body coloured front and rear bumpers, side mirrors and door handles complete the look, giving the design a premium appeal.
The interior is where the premium element of the Honda Civic is really felt. The leather seats, available with heating, correspond with the rest of the leather interior, such as on the steering, dashboard and gear knob. Speaking of the dashboard, the Civics has been redesigned to be on par with a few of its bigger German rivals. An interesting metallic insert adds a sleek contour to the dashboard while integrated air-con vents retain some of its functionality.
The digital instrument cluster was another pleasant surprise, relaying speed, revs-per-minute, fuel efficiency and other useful vehicle information directly to the driver. To the left of the instrument cluster is a 7-inch touch screen display that handles vehicle infotainment. It offers CD, radio, Bluetooth and USB connectivity as well as smartphone link applications like Apple CarPlay. Once your media is hooked up the very capable sound system gets involved from all corners of the car with impressive bass and treble tones.
Another useful feature on the 7-inch touch screen is the reverse camera which is summoned by entering reverse gear. There's also a rear parking sensor to make things extra safe. The list of features and creature comforts go on and on, spanning over things like air-conditioning, power steering, central locking, an electric handbrake and cruise control.
Power is supplied by a 1.8-litre 4-cylinder petrol engine that produces 104kW of power and 174Nm of torque, which is enough to accelerate the sedan from 0-100km/h in 10.4-seconds. Drive is sent to the front wheels through a CVT gearbox, complete with flappy-paddles, and top speed is claimed at 200km/h. The Honda Civic was surprising to drive. It handles traffic and city driving with ease and efficiency thanks to its ability to get to lower speeds quickly and coasting. You can feel how smooth it is and you can also observe the efficiency, but it's a different story once you release the Civic onto the open road. The CVT becomes a bit noisier and you can feel the engine and gearbox working hard to maintain speed. This also has a direct effect on fuel efficiency, with my 8.4-litres/100km straying very far from Honda's claimed 6.3-litres/100km.
Living with the Civic is still quite pleasant. The cabin is spacious enough for four-adults, with the same going for the big boot which could easily swallow luggage for a long road trip. At a starting price of R399,900 the Civic looks like good value for money, especially considering the vast amount of features that are included in the package.
Buy a new or used Honda Civic at a great price.
We put you back in control, make a single request and get up to 3 quotes from dealers nationally.
Choose your perfect car

Dealers come to you with their best offers

Compare offers and buy with confidence