Driven: Audi Q8 55TFSI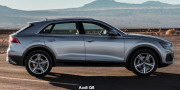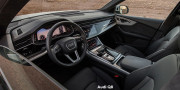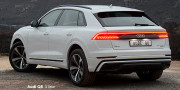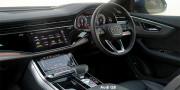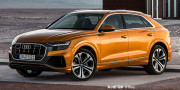 As time goes on, the only constant that exists is change. Music changes, clothing changes and these days even cars are being swapped out for SUV's. So with SUV's becoming mainstream, there is a need for individuality - A need to stand out from the crowd. This is where sporty-SUV's come in. Some examples include the BMW X6 and the Mercedes-GLE Coupe, which fuse the underpinnings of a comfortable and capable SUV with the swoopy lines of a sporty coupe.
This is not a new market either, with the BMW and Mercedes already facelifted and even in their next generations. This is interesting because there's a rival that hasn't tasted any of this action until now. Enter the Audi Q8. It's Audi's first attempt at a thoroughbred sports-SUV, and I was very excited to learn that I was about to become one of the first people in the country to drive Audi's newest SUV.
I haven't seen the Audi Q8 in the metal prior to the arrival of the one I would be testing, so it was incredible once I got to actually meet it. The first thing you notice is its size which is much larger than it seems to be in photos. The Q8 is long, low and wide which is everything you're looking for in a sporty SUV. The thing that impressed me about the Q8 is how these dimensions didn't compromise any of its practicality. The sloping rear is not as radical as its competitors, meaning that boot capacity and rear headroom aren't sacrificed for the good looks. Win-win.
Hopping into the driver's seat was another experience. You're greeted by the happenings of the Virtual Cockpit display before your attention is sent to the two large screens upfront. One screen for the Audi MMI that controls things like music, Audi Drive Select and other vehicle settings, and the other screen for climate control and seat functions. Both screens feature the new haptic feedback touch display which I found to be rather annoying at first, but after a few days couldn't live without. I found myself interacting with the screens almost unconsciously as I drove because they just integrate themselves into the driving experience so naturally.
I found the cabin to be very spacious after doing the classic 'can-i-fit-behind-my-seat' test. In fact, rear passengers have it really good in the Audi Q8 with reclining seats, their own half of the four-zone climate control as well as a haptic digital screen to control it. The panoramic sunroof adds an element of light and airiness to the cabin during the day which is replaced by the (very customisable) interior lighting at nights. The frameless doors reveal the thick windows that ensure the cabin is kept extremely quiet, which pairs well with the 23-speaker Bang and Olufsen 3D sound system that had me hearing things that I've never heard before in my favourite songs.
Driving the Audi Q8 55 TFSI is effortless. It's powered by a mild hybrid 3.0-litre turbocharged petrol V6 that produces 250kW of power and 500Nm of torque, with a 48V motor that kicks in when the car is coasting as well as during the start/stop transition. The engine lacks a bit of oomf at lower revs but is capable of getting the Q8 moving with little effort. Dynamic Mode wakes the dragon up. The exhaust note gets a bit deeper, the adaptive air suspension lowers the car all 90mm down and the interior lighting turns red, signalling that you're now in beast mode.
Theatrics aside though, the Q8's personality is not to be an aggressive bully on the road but rather laid back and relaxed. It's a car where Comfort Mode is where you want to be in, with the adaptive cruise control activated and your favourite music performed in ultra-clarity just for you as you cover thousands of kilometres at a time. It's a cocoon of unadulterated luxury, with the technology of tomorrow at your fingertips.
Overall, I'd say the Audi Q8 is a winner. Not just because every 4 in 5 people that see the car end up staring at it, or end up waving and giving you a thumbs up, but because it has what it takes to be the best SUV on the market. Let's wait and see what the upcoming SQ8 and RSQ8 are like.
Pricing:
Q8 55 TFSI quattro tiptronic - R1 388 000
Q8 45 TDI quattro tiptronic - R1 439 000
Buy a new or used Audi Q8 at a great price.
We put you back in control, make a single request and get up to 3 quotes from dealers nationally.
Choose your perfect car

Dealers come to you with their best offers

Compare offers and buy with confidence